Click here to read our Facebook customers reviews!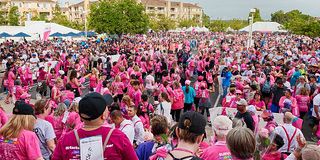 Welcome to Bibs Plus
October is breast cancer awareness month. We are supporting the cause! Rock you gear while expanding awareness. All family members can participate as well as friends and co-workers. #MoreThanPink #BibsPlusMTP

---
So glad that you connected with us. We want you to know that you can shop our secure online shop with confidence. Happy Shopping!
---
NOTE: We often share DISCOUNT CODES with our customers and should you have one - REMEMBER to enter during the checkout process. 
---
WE CARE - We are proud to be a sweatshop free environment. We do not support modern day slavery - we advocate elevating the global standard for textile production. We want children to be children. 
---
We support many great organizations! We are highlighting St. Jude Children's Research Hospital because families of the many children receiving care never receive a bill from St. Jude for anything -- not for treatment, travel, housing or food -- because they believe all a family should worry about is helping their child live. We have products that when you purchase we donate to St. Jude. We forward our donations to ALFWC to be consolidated for St. Jude Sunday of Hope initiative - Code FAC1043D018.

SHOP NOW